"Nature is not a place to visit. It is home." — Gary Snyder
Dear Friend,

There's music in each of us. The primal melody of the soul, which beats to an inner sacred rhythm. When life happens in sync, we find peace. However, when the din of the daily drone takes over, we have to retune, reconnect and recalibrate.

In every realty project since our inception, we at Ambuja Neotia have always tried to weave that tune back into the lives of people. After all, happiness is not a momentary gig. It's a lifetime of resonating with the rhythm of nature.

On that note, I am happy to introduce VanyaAwas in Lataguri, crafted in the middle of a verdant and rich forest, where you can hit the home button without compromising on the comforts of your city pad.

Let the magic of the woods take over. From mindful strolls amid the greens to listening to the wind, from watching the sunset to walking barefoot on the grass, experience life-enhancing perks of spending time in the woods, for a healthier and happier you.

Find relief from a world that shows no sign of slowing down. Give yourself this gift, and then share with others.

Welcome to the secret network of nature. Welcome to VanyaAwas.

Wishing the best for the future.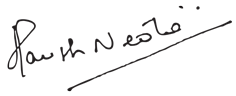 Harshavardhan Neotia
Chairman, Ambuja Neotia